Ryan Seacrest

,

handler

, arch-nemesis of

Joel McHale

and the only man who needs to stand on a box on the red carpet, posted three images from

Rihanna's

new "

S&M

" video on his web site last week. It appears Rihanna (or at least her handlers) are addressing the rumors regarding her status among the

Illuminati

. It seems like every other gossip web site has comments in their Rihanna posts from people completely misinformed about her role in the music industry.
Behind her, the words "Rihanna the

goat

" refer to her vocal abilities as this video explains.
The

Baphomet

famously has a goat's head and Rihanna's handler

Jay-Z

is said to be a

Freemason
who infamously worship the Baphomet.
Jay-Z's new book

Decoded

even has an

ink splash

design in shape of the Baphomet's head.
In RiRi's "

Umbrella

" video, she is digitally altered at one point to look like the Baphomet's head.
Fellow pop star and Masonic puppet,

Kylie Minogue

makes the same pose in her "

Get Outta My Way

" video.
We all remember how much Kylie and her handlers love the Baphomet.

Comments about Rihanna worshipping

Satan

, having

sold her soul

and her being "in the Illuminati" are common enough from her detractors but it isn't that simple. I doubt the girl is even fully self-aware of what she is truly part of. In the first image above, Rihanna is dressed up as a

white rabbit

, clearly reinforcing her possible

Alice in Wonderland programming

, very popular with pop tarts like

Gwen Stefani

,

Beyoncé

,

Uffie

,

Christina Aguilera

,

Avril Lavigne

and

Nicki Minaj

. Her costume is reminiscent to the iconic

Playboy Bunny

.
Playboy is often refered to as a "gentleman's magazine" but founder

Hugh Hefner

is no gentleman. He is an exploitative

pimp

who helps

dehumanize

women by dressing them up as

bunny rabbits

. One of the ways he deceives young, naive women into posing for his disgusting magazine is to remind them that

Marilyn Monroe

was the first centerfold for the magazine. He always leaves out the fact that she never posed for the magazine but he bought the images from the photographer of a nude calendar who

Norma Jean Baker

(Monroe's birth name) posed for before she became famous. The original

Playboy mansion

in Chicago, IL was an internationally known

brothel

where upper-class men would come to have sex with

underage girls

and

prostitutes

.

Occult rituals

were said to have also been performed there including

sex magick

,

orgies

and other

sexual perversions

.
Monarchs
like
Cathy O'Brien
and
Bryce Taylor
described their experiences as being "robots" programmed to do whatever their programmers/handlers wanted and having no control over their own thoughts or actions. The fact that Rihanna and her handlers continuously exploit the negative occult imagery such as the

All-Seeing Eye

of

Horus

does not mean that she is part of the Illuminati, it just means that she is a puppet for their cause. Her job is to help desensitize her generation of young people to their

New World Order

,

police state agenda

.
Rihanna holding a sexually suggestive

ice cream cone

(

phallus

symbol).
The idea that one has to sell their soul for

fame

and

fortune

is not new or even unique to the music industry. Its only recently been a novelty because of artists like

Kanye West

,

Katy Perry

and

Britney Spears

going on record mentioning the selling of one's soul for fame. Whether or not these stars are only joking, their instantaneous rise to success and saturation in the mainstream media over several years (over a decade in Spears' case) leave one wondering just how much truth there is in the

Faustian

concept.
Kanye raps about selling his soul to

the Devil

.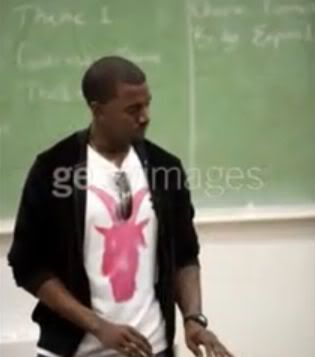 Seems Kanye is a fan of the Baphomet too.
Katy Perry saying the same thing.
Even

Bob Dylan

..."With chief commander...in this Earth and the world we can't see." He means the

astral plane

.
Eminem

(

M&M

), who recently did a collaboration with

Rihanna

on "Love the Way You Lie" often raps about how he sold his soul and "can't get it back." In the video above for his bonus track "My Darling," he and the Devil rap about the price of fame. Even Rihanna gives a hint that she's under Illuminati control on the track "Umbrella" where she sings, "Took an

oath

, I'ma stick it out to the

end

."

Eminem is not the first rapper to write lyrics about trading one's soul for the celebrity lifestyle.

Snoop Dogg

,

LL Cool J

,

Tupac Shakur

,

DMX

(the Illuminati's latest smear campaign target and possible candidate for ritual blood-in-blood-out

sacrifice

) and Em's good friend and mentor

Dr. Dre

have also rapped about making deals with the Devil or being targeted by the

Illuminati

.
Prodigy

, from the rap group

Mobb Deep

, best explains the rap game with their song, "Illuminati."
"Illuminati want my

mind

,

soul

and my

body

.


Secret Society

, trying to keep their

eye

on

me

.
But I'ma stay

incogni'

in places they can't find me.
Make my moves

strategically

."
In the video for "Love the Way You Lie," Rihanna sings, "Just gonna stand there and watch me burn. That's alright because I like the way it hurts." The video shows a couple

fighting violently

, then

making up passionately

. The pain and pleasure themes continue the disturbing

sadomasochism

theme dominant throughout Rihanna's two most recent albums. Eminem has a notorious track record of rapping about

physically abusing

,

raping

and

murdering

his ex-wife

Kim Mathers

.


The video for "Love the Way You Lie" has been accused of

glorifying domestic violence

. One could say that the attractive couple, played by

Dominic Monaghan

and MK'd

Megan Fox

in the video even glamourize it.


Eminem continues to refer to himself as

Superman

. Em even had a song called "Superman" that had a video

MTV

wouldn't play because of the graphic nudity by porn

star

Gina Lynn

. Many

actresses

in pornographic films are in fact

sexually programmed prostitutes

like many pop stars, some of whom are forced into the porn industry through violent sex acts including performing

gang rape

,

rape

and

bestiality

scenes. In some instances, slaves are

ritualistically killed

on tape during sexual performances.
Superman

is the most famous superhero from the comic book genre. A copy of the first issue of

Action Comics

was recently sold for a record breaking $1.5 Million, making this issue the most valuable comic book in any given condition. The series was created by

Jerry Siegel

and

Joe Shuster

and debuted in Action Comics #1 in June 1938. The legendary superhero was based on their 1933 short story "The Reign of the Super-Man." Superman's

alter ego

,

Clark Kent

, is never identified as the world famous superhero by his work colleages at the

Daily Planet

, despite never wearing a mask as part of his disguise. In 1992, Superman co-creator Joe Shuster told the

Toronto Star

, that the name derived from 1930's cinematic leading men

Clark Gable

and

Kent Taylor

, but the persona from bespectacled silent film comic

Harold Lloyd

and himself.
Superman's super strength, adventurer persona, seemingly invincibility and non-human origin have all made him comparable to

Greek

mythological demo-god/divine hero

Heracles

(

Hercules

to the

Romans

/

Saturnians

). Even the cover art of Action Comics #1 has Superman's appearance similar to Italian artist

Antonio del Pollaiolo's

painting

Hercules and the Hydra

from 1475.
Marshall's uses the

All-Seeing Eye

/

Eye of Providence

throughout his career.
Here, he wears a

black and white

bandanna with a

sun

design covering his

pineal gland

/

third eye

.
Em makes the shape of a

pyramid

between his fingers over his

left eye

, creating the Eye of Providence seen below.
The All-Seeing Eye of the

Great Architect

(

Lucifer

) or the Left Eye of

Horus

(called a

wedjat

) is everywhere it seems. From the back of our $1 bill, to

Ancient Egyptian hieroglyphs

, it has been used much throughout history and is one of the most recognizable symbols of negative occult associations and the

Illuminati

. It is also known as the

RIght Eye

of

Ra

, the solar diety, but is mostly associated with Horus. The legend surrounded Horus' left eye is that he and

Set

/

Seth

another Ancient Egyptian god, were at war with each other over the upper and lower parts of Egypt and Horus' left eye was injured in battle. Because of the injury, the

moon

was symbolic of Horus' left eye and the much brighter

sun

was symbolic of Horus' right eye (also Ra's right eye).
Marshall Mathers

' stage name Eminem (

M

&

M

) is a reference to his initials.

Freemasons

love those double initials!
I know its repetitive by now but my detractors like to say that I don't know "them" (symbols).
Making a pyramid with his hands, saluting his masters.
Rihanna debuted a darky, edgier image with her third album, "Good Girl Gone Bad." The video for "Umbrella" featured a lot of negative

Luciferian

occult symbolism, which made sense since her handler

Jay-Z

collaborated on a remix for the song. After the physical abuse incident in February 2009 with her then boyfriend,

Chris Brown

, her image got even darker. While nobody buys the

bad

girl image, her handlers have made sure that her lyrics and style give the impression that she likes danger.
Female artists often begin covering their right eyes, then their left ones.
Does this mean that she, like

GaGa

, has passed some sort of

initiation ritual

?

It just seems that ever since the incident with Chris Brown, she's giving her fans the impression that she enjoys pain, abuse and other dangerous activities. Her image is also noticeably more sexually charged--dare I say, slutty? What else do you call it when a woman sings a song like "Hard" at the

Nickelodeon Kid's Choice Awards

? Whatever her deal is, she's giving her impressionable followers/worshippers the idea that bad girls are sexy and pain and abuse are pleasurable. She just reiterates these tired themes with her latest single and video "

S&M

." S&M is of course an abbreviation for

sadomasochism

.

Sadism is pleasure in the infliction of pain or humiliation upon another person, while masochism is pleasure in receiving the pain. These terms may describe consensual practices—often sexual, but not necessarily so—within the

BDSM

(

bondage

&

discipline

/sadomasochism) community.
Lyrics from "S&M:"
"Feels so good being

bad

(Oh oh oh oh oh).
There's no way I'm turning back (Oh oh oh oh oh).
Now the

pain

is my

pleasure

cause nothing could measure (Oh oh oh oh oh).


Love

is

great

, love is

fine

(Oh oh oh oh oh).
Out the box, outta line (Oh oh oh oh oh).
The

affliction

of the

feeling

leaves me

wanting more

(Oh oh oh oh oh) .
Cause I may be bad, but I'm perfectly

good

at it.


Sex

in the air, I don't care, I love the smell of it.


Sticks

and

stones

may

break

my

bones

but

chains

and

whips excite me

."
While RiRi's fans may say that she is a woman taking

control

of her sexuality, there is nothing

empowering

about being abused or humiliated or being

dehumanized

, which is often the case with this young woman. She's not even doing anything original that

Madonna

and

Janet Jackson

have not already covered.
Madonna's "

SEX

" book introduced mainstream pop music to interracial BDSM in 1992.
Image courtesy of Madonna-Online.ch