In this screen capture from today's episode of "

The Oprah Winfrey Show

," you can clearly make out the

head

of the

Masonic idol

,

Baphomet

, on Oprah's chest--close to her

heart

, you might say. The shape of Baphomet's head looks like its made from

purple

swarovski cyrstals. At first, I thought maybe the shape only appeared because Oprah was wearing an open collar v-neck sweater but on closer inspection, the shape appears stitched in. I realize this could just be coincidence but I actually watched this episode, which was the second part of her reunion with former

apprentice Iyanla Vanzant

, whom Oprah had a falling out of sorts with years

11

years ago. What makes this interesting, is not only did they stop speaking 11 years ago but today's date is 2/23/2011, which adds up to 11. 11 is the first

Master Number

in Masonic

numerology

, where all numbers (except doubles like 11, 22, 33...) are added up together to get the final number.
Vanzant was on the show to promote her new book, "

Peace

from

Broken Pieces

," which sounds strikingly like

programming terminology

.

Mind control victims

are programmed with

fractured mirrors

, which is said to

reflect

the

state

of their fractured

minds

, caused by

intense repetitive physical trauma

. Iyanla Vanzant

survived childhood rape

,

physically

and

psychologically abusive relationships

and

poverty

but later became a

millionaire bestselling author

after appearing numerous times on "The Oprah Winfrey Show" throughout the 90's. The

23rd

of

February

is also worth mentioning as the number is central to the

23 enigma

, which is the theory that most

events

or

incidents

are directly connected to the number 23, some modification of the number 23, or a number related to the number 23.

You can't see it in the image above, but Oprah was also wearing some

Christian Louboutin

shoes, which are known for having

red

soles, denoting possible

Wizard of Oz programming

on her part.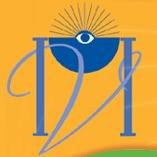 On Dr. Iyanla Vanzant's official website, this logo of the

all-seeing eye

with

sun rays above

it, the

ocean beneath

it and

two Masonic pillars

on both sides, appears. Even though Masons are traditionally male, women are often associated with less mainstream

brotherhoods

and

orders

such as the

Daughters of the Nile

.